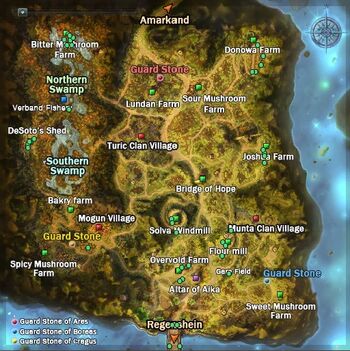 Verband is the first map outside of
Regenshein
 located in
Lakia
. This is the first region that you will encounter monsters or players from other nations.
Verband contains the Altar of Aika at the Overvold Farm. This is the Motherstone of the nation and can be robbed during certain times of the day.
There are 3 Guard Stones located in Sweet Mushroom Farm, Mogun Village, and Lundan Farm.
To the north, you can enter the barren region of Amarkand. To the south, you can enter the Capital city of Lakia, Regenshein.
Chilen the field boss spawns randomly in the Northern and Southern Swamps of Verband. Be sure to check both channels to find him!
Between the Northern and Southern Swamps is the Verband Fishery! If you are looking for a Aika hobby that may pay some big rewards, check out Fishing!
Quest Objects
Edit
These are items that you must interact with to complete certain quests. Quest objects are typically only used for one quest, rarely more than one.
You can easily find these objects by typing the name into the "Search" bar located on the map.
NPCs are "Non-Playing Characters" that give you quests , complete quests, sell items , or otherwise interact with you.
As with items, you can search these people in the "Search" bar located on the map in-game.
Mobs are "Mobiles" which basically translates into mobile hostile creatures. These mobs may be aggressive and attack you without provocation or may not.
They drop items for crafting, quest items, and equipment. Equipment dropped is typically based on the level of the mobs.
All Mobs randomly drop:
Mobs in Swamp area dropped increased amounts of Agate at the time drops were recorded.
Community content is available under
CC-BY-SA
unless otherwise noted.