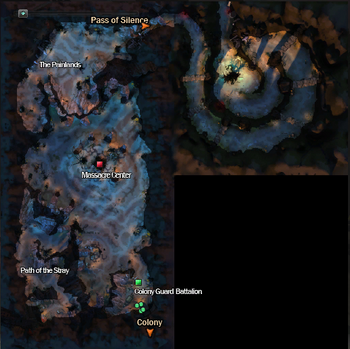 This is the first map after leaving the
Disceroa  Colony
.
This is a pve map located on the Limited Channel, so you will not accrue talents here.
There are only 4 NPCs located in this map and they are found at the entrance. If you go back to the entrance, you may teleport to Disceroa Colony.
If you continue on the path, you will enter the Pass of Silence, which contains the Abyssal Gate dungeon.
Below is a list of NPCs and mobs found on this map.
NPCs & Mobs
Edit
NPCs are "Non-Playing Characters" that give you quests, complete quests, sell items, or otherwise interact with you.
As with items, you can search these people in the "Search" bar located on the map in-game.
Mobs randomly drop:
Community content is available under
CC-BY-SA
unless otherwise noted.