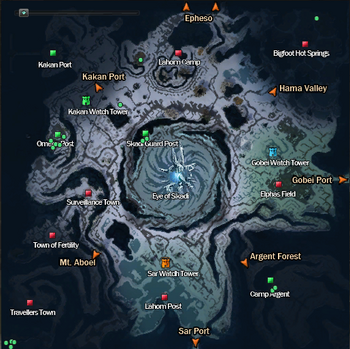 Traband is a pvp map that contains players from all nations without guards protecting you. There are no pve options on this map.
To get to Traband for free, board the ship in Cirrugor Marina. This boat will take you to one of the three ports located in Traband: Sar Port, Gobei Port, or Kakan Port.
The only safe town in Traband is Ephesolocated to the north. Quests in Traband begin at level 70.
There is one dungeon located in Traband, it is found in Mt. Aboel and called Lycan's Cave.
Traband is the site of the Traband Tower Wars which happens daily every 18 hours. This event rewards Holy Dice for Pheltas and buffs for the nation for participation. If a nation does not participate in this event, the entire nation will incur a debuff as well as a rise in taxes in Traband.
The following is a list of only NPCs and Mobs located on the Traband map. For information about Sar, Gobei, and Kakan Ports, Epheso, Hama Valley, Argent Forest, or Mt. Aboel please visit the blue links.
Seukadi's Tear the field boss randomly spawns in Traband! If you run across this beast, make sure to find a party to reap the rewards with.
The Hama Valley is home to the Bigfoot Hot Springs also known as the Traband Fishery! If you are looking for an Aika hobby that may give some big rewards, check out Fishing! This area is not the best to do this in, however, because you may become an open target to enemies.
NPCs are "Non-Playing Characters" that give you quests , complete quests, sell items , or otherwise interact with you.
As with items, you can search these people in the "Search" bar located on the map in-game.
Quest Objects
Edit
These are items that you must interact with to complete certain quests. Quest objects are typically only used for one quest, rarely more than one.
You can easily find these objects by typing the name into the "Search" bar located on the map.
Mobs are "Mobiles" which basically translates into mobile hostile creatures. These mobs may be aggressive and attack you without provocation or may not.
They drop items for crafting, quest items, and equipment. Equipment dropped is typically based on the level of the mobs.
All Mobs Randomly Drop:
Level 72 Gear of all Classes
Community content is available under
CC-BY-SA
unless otherwise noted.