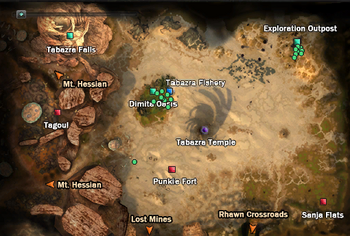 Tabazra Desert is a desert with an Oasis and an Exploration Outpost where most of the NPCs are located.
This map has a Temple and therefore is also a pker hot spot.
This map contains level 30-40 quests and mobs.
To the southeast, you can go to Rhawn Crossroads. To the west or northwest, you can go to Mt. Hessian. To the south is Lost Mines.
King Kobra and Scorpion Master the field bosses spawn randomly around Tabazra. Be sure to check both channels to find them!
The Tabazra Fishery is located at the Dimita Oasis! If you are looking for an Aika hobby that may bring great rewards, be sure to check out Fishing!
These "Non-Playing Characters" give quests, are merchants, or otherwise interact with players.
Quest Objects
Edit
These are objects used during quests. Objects are typically only used once for one quest.
These are creatures killed for experience, quests, or items.
All Mobs randomly drop:
Community content is available under
CC-BY-SA
unless otherwise noted.