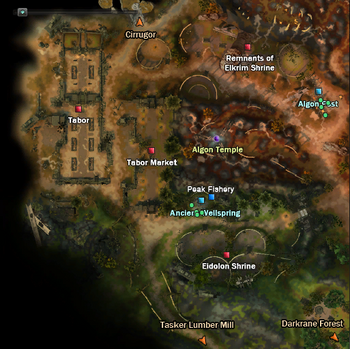 The Ruins of Algon theme is centered around a Romanesque style city that has been destroyed in the past.
There are 2 main areas where NPCs are located: Algon Post and Ancient Wellspring. There is a Temple located on the top of the hill southwest of Algon Post. To the north lies Mt. Hessian , to the east is Lost Mines, and to the south is Darkrane Forest.
There are two ways to enter Darkrane Forest, one is via the path that is clearly marked on the map to the west of Eldolon Shrine towards Tasker Lumber Mill. The other is by going up the steep hill on the eastern side of Eldolon Shrine, it is difficult to see, but there is a path there with an abandoned temple at the top. This path will bring you to the The Woodcutter's Path.
Ruin Gazer and Aegorath the field bosses spawn randomly around Algon. Be sure to check both channels to find them!
Located at the Ancient Wellspring is the Algon Fishery! If you are looking for a Aika hobby that may pay some big rewards, check out Fishing!
These "Non-Playing Characters" give quests, are merchants, or otherwise interact with players.
Quest Objects
Edit
These are objects used during quests. Objects are typically only used once for one quest.
These are creatures killed for experience, quests, or items.
All Mobs randomly drop:
Community content is available under
CC-BY-SA
unless otherwise noted.