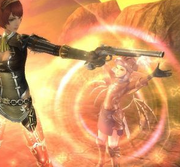 There are 3 types of
Pran
and each has its own unique passive and active skills that enhance your character and assist you through your battles.
You can choose which active skills to add to your Pran's hotkey bar (window with Pran's HP & MP) by clicking and dragging the skill to the slots.
Pran skills automatically increase in level as their own level increases, you do not have to manually apply skill points.
These skills only apply when your Pran is equiped under the "Character Info" window. You may have up to 2 Prans per account and one can be kept in your inventory and equiped when needed.
Fire Pran
Edit
Spark of Fire

Edit
Level
Pran Level
Description
1
1
+7 Fire Dmg
2
5
+9 Fire Dmg
3
10
+12 Fire Dmg
4
15
+16 Fire Dmg
5
20
+21 Fire Dmg
6
25
+26 Fire Dmg
7
30
+33 Fire Dmg
8
35
+42 Fire Dmg
9
40
+53 Fire Dmg
10
45
+65 Fire Dmg
Firefighter

Edit
Level
Pran Level
Description
1
1
+2 Fire Resistance
2
5
+4 Fire Resistance
3
10
+6 Fire Resistance
4
15
+8 Fire Resistance
5
20
+10 Fire Resistance
6
25
+12 Fire Resistance
7
30
+14 Fire Resistance
8
35
+16 Fire Resistance
9
40
+18 Fire Resistance
10
45
+20 Fire Resistance
Touch of Flame

Edit
Level
Pran Level
Description
MP
Cooldown
1
1
+10 Phys att, +16 Mag att for 30secs
92
120secs
2
5
+12 Phys att, +22 Mag att for 30secs
121
120secs
3
10
+16 Phys att, +30 Mag att for 30secs
168
120secs
4
15
+22 Phys att, +40 Mag att for 30secs
219
120secs
5
20
+28 Phys att, +52 Mag att for 30secs
302
120secs
6
25
+36 Phys att, +66 Mag att for 30secs
378
120secs
7
30
+46 Phys att, +84 Mag att for 30secs
475
120secs
8
35
+60 Phys att, +108 Mag att for 30secs
598
120secs
9
40
+76 Phys att, +136 Mag att for 30secs
792
120secs
10
45
+92 Phys att, +166 Mag att for 30secs
962
120secs
Transform

Edit
Level
Pran Level
Description
MP
Cooldown
1
5
Transforms into Fairy
2
30secs
Level
Pran Level
Description
1
5
HP +37
2
10
HP +52
3
15
HP +68
4
20
HP +88
5
25
HP +110
6
30
HP +138
7
35
HP +173
8
40
HP +216
9
45
HP +262
10
50
HP +317
Backdraft

Edit
Level
Pran Level
Description
MP
Cooldown
1
10
30 dmg to all that attack caster for 30secs
209
150sec
2
15
40 dmg to all that attack caster for 30secs
274
150sec
3
20
52 dmg to all that attack caster for 30secs
377
150sec
4
25
66 dmg to all that attack caster for 30secs
473
150sec
5
30
83 dmg to all that attack caster for 30secs
594
150sec
6
35
106 dmg to all that attack caster for 30secs
748
150sec
7
40
132 dmg to all that attack caster for 30secs
990
150sec
8
45
162 dmg to all that attack caster for 30secs
1202
150sec
9
50
195 dmg to all that attack caster for 30secs
1538
150sec
10
55
241 dmg to all that attack caster for 30secs
1822
150sec
Catalytic Blaze

Edit
Level
Pran Level
Description
1
20
Crit Rate +1
2
25
Crit Rate +2
3
30
Crit Rate +3
4
35
Crit Rate +4
5
40
Crit Rate +5
6
45
Crit Rate +6
7
50
Crit Rate +7
8
55
Crit Rate +8
9
60
Crit Rate +9
10
65
Crit Rate +10
Enchanted Inferno

Edit
Level
Pran Level
Description
MP
Cooldown
1
25
Skill Dmg +43 for 30secs
567
180secs
2
30
Skill Dmg +55 for 30secs
713
180secs
3
35
Skill Dmg +70 for 30secs
897
180secs
4
40
Skill Dmg +88 for 30secs
1188
180secs
5
45
Skill Dmg +108 for 30secs
1443
180secs
6
50
Skill Dmg +132 for 30secs
1845
180secs
7
55
Skill Dmg +158 for 30secs
2186
180secs
8
60
Skill Dmg +187 for 30secs
2644
180secs
9
65
Skill Dmg +218 for 30secs
3024
180secs
10
70
Skill Dmg +253 for 30secs
3453
180secs
Mana Spark

Edit
Level
Pran Level
Description
1
50
+ Phys Att, + Mag Att
2
55
+ Phys Att, + Mag Att
3
60
+ Phys Att, + Mag Att
4
65
+ Phys Att, + Mag Att
5
70
+ Phys Att, + Mag Att
Gas Cloud

Edit
Level
Pran Level
Description
MP
Cooldown
1
55
Crit Rate +4
2153
210secs
2
60
Crit Rate +8
2551
210secs
3
65
Crit Rate +12
2994
210secs
4
70
Crit Rate +16
3495
210secs
Water Pran
Edit
Splash of Water

Edit
Level
Pran Level
Description
1
1
+5 Water Dmg
2
5
+7 Water Dmg
3
10
+9 Water Dmg
4
15
+12 Water Dmg
5
20
+16 Water Dmg
6
25
+20 Water Dmg
7
30
+26 Water Dmg
8
35
+34 Water Dmg
9
40
+42 Water Dmg
10
45
+52 Water Dmg
Waterproof

Edit
Level
Pran Level
Description
1
1
+2 Water Resistance
2
5
+4 Water Resistance
3
10
+6 Water Resistance
4
15
+8 Water Resistance
5
20
+10 Water Resistance
6
25
+12 Water Resistance
7
30
+14 Water Resistance
8
35
+16 Water Resistance
9
40
+18 Water Resistance
10
45
+20 Water Resistance
Touch of Ice

Edit
Level
Pran Level
Description
MP
Cooldown
1
1
+54 Phys def, +68 Mag def for 40secs
92
120secs
2
5
+72 Phys def, +90 Mag def for 40secs
121
120secs
3
10
+101 Phys def, +126 Mag def for 40secs
168
120secs
4
15
+133 Phys def, +167 Mag def for 40secs
219
120secs
5
20
+183 Phys def, +229 Mag def for 40secs
302
120secs
6
25
+234 Phys def, +294 Mag def for 40secs
378
120secs
7
30
+296 Phys def, +374 Mag def for 40secs
475
120secs
8
35
+378 Phys def, +477 Mag def for 40secs
598
120secs
9
40
+477 Phys def, +602 Mag def for 40secs
792
120secs
10
45
+585 Phys def, +739 Mag def for 40secs
962
120secs
Transform

Edit
Level
Pran Level
Description
MP
Cooldown
1
5
Transforms into Fairy
2
30secs
Level
Pran Level
Description
1
5
MP +50
2
10
MP +70
3
15
MP +91
4
20
MP +123
5
25
MP +158
6
30
MP +198
7
35
MP +249
8
40
MP +330
9
45
MP +401
10
50
MP +513
Level
Pran Level
Description
MP
Cooldown
1
10
Absorbs 280 dmg for 40secs
209
150sec
2
15
Absorbs 370 dmg for 40secs
274
150sec
3
20
Absorbs 485 dmg for 40secs
377
150sec
4
25
Absorbs 615 dmg for 40secs
473
150sec
5
30
Absorbs 780 dmg for 40secs
594
150sec
6
35
Absorbs 995 dmg for 40secs
748
150sec
7
40
Absorbs 1255 dmg for 40secs
990
150sec
8
45
Absorbs 1540 dmg for 40secs
1202
150sec
9
50
Absorbs 1885 dmg for 40secs
1538
150sec
10
55
Absorbs 2260 dmg for 40secs
1822
150sec
Eye of the Storm

Edit
Level
Pran Level
Description
1
20
Abnormal Status Resist +1
2
25
Abnormal Status Resist +2
3
30
Abnormal Status Resist +3
4
35
Abnormal Status Resist +4
5
40
Abnormal Status Resist +5
6
45
Abnormal Status Resist +6
7
50
Abnormal Status Resist +7
8
55
Abnormal Status Resist +8
9
60
Abnormal Status Resist +9
10
65
Abnormal Status Resist +10
Tsunami Blessing

Edit
Level
Pran Level
Description
MP
Cooldown
1
25
MP Recovery Rate +74 for 40secs
567
180secs
2
30
MP Recovery Rate +95 for 40secs
713
180secs
3
35
MP Recovery Rate +120 for 40secs
897
180secs
4
40
MP Recovery Rate +156 for 40secs
1188
180secs
5
45
MP Recovery Rate +192 for 40secs
1443
180secs
6
50
MP Recovery Rate +240 for 40secs
1845
180secs
7
55
MP Recovery Rate +290 for 40secs
2186
180secs
8
60
MP Recovery Rate +345 for 40secs
2644
180secs
9
65
MP Recovery Rate +401 for 40secs
3024
180secs
10
70
MP Recovery Rate +464 for 40secs
3453
180secs
Hydrophobia

Edit
Level
Pran Level
Description
1
50
Increased Resistances
2
55
Increased Resistances
3
60
Increased Resistances
4
65
Increased Resistances
5
70
Increased Resistances
Artic Aegis

Edit
Level
Pran Level
Description
MP
Cooldown
1
55
Immunity to certain attacks for 4secs
2153
210secs
2
60
Immunity to certain attacks for 8secs
2551
210secs
3
65
Immunity to certain attacks for 12secs
2994
210secs
4
70
Immunity to certain attacks for 16secs
3495
210secs
Breath of Air

Edit
Level
Pran Level
Description
1
1
+6 Wind Dmg
2
5
+8 Wind Dmg
3
10
+10 Wind Dmg
4
15
+14 Wind Dmg
5
20
+18 Wind Dmg
6
25
+23 Wind Dmg
7
30
+29 Wind Dmg
8
35
+38 Wind Dmg
9
40
+48 Wind Dmg
10
45
+58 Wind Dmg
Windbreaker

Edit
Level
Pran Level
Description
1
1
+2 Wind Resistance
2
5
+4 Wind Resistance
3
10
+6 Wind Resistance
4
15
+8 Wind Resistance
5
20
+10 Wind Resistance
6
25
+12 Wind Resistance
7
30
+14 Wind Resistance
8
35
+16 Wind Resistance
9
40
+18 Wind Resistance
10
45
+20 Wind Resistance
Touch of Wind

Edit
Level
Pran Level
Description
MP
Cooldown
1
1
Dodge Rate +17 for 20secs
105
120secs
2
5
Dodge Rate +20 for 20secs
138
120secs
3
10
Dodge Rate +23 for 20secs
192
120secs
4
15
Dodge Rate +27 for 20secs
250
120secs
5
20
Dodge Rate +31 for 20secs
345
120secs
6
25
Dodge Rate +36 for 20secs
432
120secs
7
30
Dodge Rate +41 for 20secs
543
120secs
8
35
Dodge Rate +47 for 20secs
684
120secs
9
40
Dodge Rate +53 for 20secs
906
120secs
10
45
Dodge Rate +60 for 20secs
1099
120secs
Transform

Edit
Level
Pran Level
Description
MP
Cooldown
1
5
Transforms into Fairy
2
30secs
Level
Pran Level
Description
1
5
HP +24 , MP +33
2
10
HP +34 , MP +46
3
15
HP +45 , MP +60
4
20
HP +58 , MP +81
5
25
HP +73 , MP +104
6
30
HP +91 , MP +131
7
35
HP +114 , MP +164
8
40
HP +143 , MP +211
9
45
HP +173 , MP +265
10
50
HP +209 , MP +239
Level
Pran Level
Description
MP
Cooldown
1
10
Decrease MP use for 25% for 20secs
239
150sec
2
15
Decrease MP use for 30% for 20secs
313
150sec
3
20
Decrease MP use for 35% for 20secs
431
150sec
4
25
Decrease MP use for 40% for 20secs
540
150sec
5
30
Decrease MP use for 45% for 20secs
679
150sec
6
35
Decrease MP use for 50% for 20secs
855
150sec
7
40
Decrease MP use for 55% for 20secs
1132
150sec
8
45
Decrease MP use for 60% for 20secs
1374
150sec
9
50
Decrease MP use for 65% for 20secs
1757
150sec
10
55
Decrease MP use for 70% for 20secs
2082
150sec
White Squall

Edit
Level
Pran Level
Description
1
20
HP Recover +11 , MP Recover +8
2
25
HP Recover +14 , MP Recover +10
3
30
HP Recover +17 , MP Recover +13
4
35
HP Recover +22 , MP Recover +16
5
40
HP Recover +27 , MP Recover +21
6
45
HP Recover +33 , MP Recover +26
7
50
HP Recover +40 , MP Recover +32
8
55
HP Recover +47 , MP Recover +39
9
60
HP Recover +55 , MP Recover +46
10
65
HP Recover +64 , MP Recover +53
Kindred Hurricane

Edit
Level
Pran Level
Description
MP
Cooldown
1
25
88 HP recover every 2secs for 20secs
648
180secs
2
30
111 HP recover every 2secs for 20secs
815
180secs
3
35
139 HP recover every 2secs for 20secs
1026
180secs
4
40
174 HP recover every 2secs for 20secs
1358
180secs
5
45
211 HP recover every 2secs for 20secs
1649
180secs
6
50
254 HP recover every 2secs for 20secs
2109
180secs
7
55
301 HP recover every 2secs for 20secs
2499
180secs
8
60
351 HP recover every 2secs for 20secs
3022
180secs
9
65
405 HP recover every 2secs for 20secs
3456
180secs
10
70
463 HP recover every 2secs for 20secs
3946
180secs
Slipstream

Edit
Level
Pran Level
Description
1
50
Dodge rate increased
2
55
Dodge rate increased
3
60
Dodge rate increased
4
65
Dodge rate increased
5
70
Dodge rate increased
High Wind

Edit
Level
Pran Level
Description
MP
Cooldown
1
55
Ignore Fear and Movement Speed Decrease for 2 seconds
2153
210secs
2
60
Ignore Fear and Movement Speed Decrease for 4 seconds
2551
210secs
3
65
Ignore Fear and Movement Speed Decrease for 6 seconds
2994
210secs
4
70
Ignore Fear and Movement Speed Decrease for 8 seconds
3495
210secs