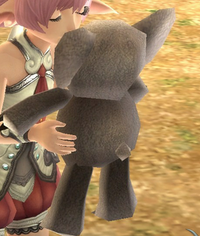 Throughout Aika you can buy various Accessories for your Pran. These can be purchased in
Regenshein
,
The Great Hessian Tree
,
Cirrugor
, or
Epheso
.
Dolls can only be purchased for Child Prans. When bored or just happy, the doll and Pran will dance together while they wait! No child Pran is complete without her companion.
The items listed on this page are either held in the hands such as dolls or worn on the face such as glasses or masks.
Icon
Name
Cost
Description
Level
Effects
Teddy
5197
Puffy brown teddy bear.
5
Kody
10395
Adorable koala doll.
5
Cady
15592
Warm-looking cow doll.
5
Pandy
20790
Cute panda doll.
5
Rudy
25987
Rudy the red-nosed reindeer, had a very fuzzy nose.
5
Mic [365 Days]
50g
Sing your heart out.
5
Increase HP 90
Increase MP 90
Pure Innocent White Wand [30 Days]
300g
A glorious white wand that has a beautiful ruby on it.
50
Increase 50 physical damage
Increase 80 magical damage Maximum healing rate increased by 550%
Vampiric Wand [30 Days]
300g
This glowing red wand looks like it is hungry for blood.
50
Increase 50 physical damage
Increase 80 magical damage Maximum healing rate increased by 550%
Lovely Wing Heart Wand [30 Days]
300g
A wand with a cute winged heart on it.
50
Increase 50 physical damage
Increase 80 magical damage Maximum healing rate increased by 550%
Snow Maiden's Wand [30 Day]
300g
A pran wand that is the height of fashion in Traband.
50
Increase 50 physical damage
Increase 80 magical damage Maximum healing rate increased by 550%
Dark Typhoon Wand [30 Day]
300g
This wand reminds you of a deadly typhoon.
50
Increase 50 physical damage
Increase 80 magical damage Maximum healing rate increased by 550%
Dark Star Wand [30 Day]
300g
An elegant wand with a dark star at its center.
50
Increase 50 physical damage
Increase 80 magical damage Maximum healing rate increased by 550%
Icon
Name
Cost
Description
Level
Effects
Pink Glasses
Glasses good for a little girl.
5
White Glasses
Very fancy looking sunglasses.
5
Classic Sunglasses
Sunglasses of a vintage quality.
5
Black Glasses
Mild-mannered pran or superpran?
5
Spin Glasses
Master, are you getting sleepy?
5
Red Deer Nose
Small and cute red nose.
5
Blue Color Goggles
[365 Days]
50g
Prepare for the ski cross coarse with these winter goggles.
5
Increase maximum HP by 90
Increase maximum MP by 90
Red Color Goggles
[365 Days]
50g
Prepare for the ski cross coarse with these winter goggles.
5
Increase maximum HP by 90
Increase maximum MP by 90
Gas Mask
[365 Days]
50g
Be prepared to go anywhere with this item.
5
Increase maximum HP by 90
Increase maximum MP by 90
Comedic Mask
[365 Days]
50g
Do I look like I'm joking?
20
Increase maximum HP by 90
Increase maximum MP by 90
Blue Goggles
[365 days]
200g
Prepare for the ski cross coarse with these winter goggles.
20
Increase maximum HP by 90
Increase maximum MP by 90
Red Goggles
[365 days]
200g
Your Pran will be seeing red with these goggles.
5
Increase maximum HP by 90
Increase maximum MP by 90
Protest Mask
[365 days]
50g
No master!
5
Increase maximum HP by 90
Increase maximum MP by 90
Yellow Butterfly Mask
[365 days]
50g
Butterfly shaped mask.
5
Increase maximum HP by 90
Increase maximum MP by 90
Red Butterfly Mask
[365 days]
50g
Butterfly shaped mask.
5
Increase maximum HP by 90
Increase maximum MP by 90
Spooky Mask
[365 days]
50g
It's not a knife master!
5
Increase maximum HP by 90
Increase maximum MP by 90
Dark Pirate Eyepatch
[365 days]
50g
Master, let's plunder!
5
Increase maximum HP by 90
Increase maximum MP by 90
Red Pirate Eyepatch
[365 days]
50g
Master, let's plunder!
5
Increase maximum HP by 90
Increase maximum MP by 90
Pink-Emerald Glasses
Sunglasses for a stylish pran.
20
White-Ruby Glasses
Very fancy looking glasses.
20
Ringmaster's Mask
[365 Day]
200g
Helps you see the action, so you can be a Rank S Ringmaster!
20
Increase maximum HP by 110
Increase maximum MP by 110
Increase critical attack by 2
Ruby Diva Glasses
[30 Day]
200g
Your pran will look like a total diva with these on.
50
Increase maximum HP by 200
Increase maximum MP by 200
Increase critical attack by 3
Shutter Shades
[30 Days]
200g
Your pran will be able to make you harder, better, faster, stronger.
50
Increase maximum HP by 200
Increase maximum MP by 200
Increase critical attack by 3
Snow Maiden's Mask
[30 Day]
A pran mask that is the height of fashion in Traband.
50
Increase maximum HP by 200
Increase maximum MP by 200
Increase critical attack by 3
Scarlet Pran Mask
[30 Day]
200g
"Hey master! Can I ""mask"" you a question?"
50
Increase maximum HP by 200
Increase maximum MP by 200
Increase critical attack by 3
Lovely Eyepatch
[30 Day]
200g
She has her eye on you!
50
Increase maximum HP by 200
Increase maximum MP by 200
Increase critical attack by 3
Embroidered Flower Eyepatch [30 Day]
200g
If you're going to wear an eyepatch, might as well wear this one.
50
Increase maximum HP by 200
Increase maximum MP by 200
Increase critical attack by 3
Scarlet Eyepiece
[30 Day]
200g
Your pran might be planning for world domination.
50
Increase maximum HP by 200
Increase maximum MP by 200
Increase critical attack by 3