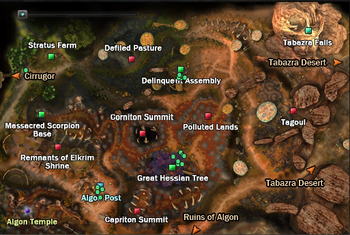 This map is directly to the east of
Cirrugor
, north of
Algon
, and to the west of
Tabazra Desert
in the northwestern side of
Lakia
.
This map is next to 2 maps that contain Temples; therefore, there is a lot of raid traffic at times from other nations.
This map has level 40-50 mobs ranging from Swasps and Guru to Skull mobs. The theme is part highlands, part ruined city, and part defiled swampland.
Lord of the Flies, Scorpion Master, and The Executioner the field bosses spawn randomly throughout Mt. Hessian. Be sure to check both channels to find them!
These "Non-Playing Characters" give quests, are merchants, or otherwise interact with players.
Quest Objects
Edit
These are objects used during quests. Objects are typically only used once for one quest.
These are creatures killed for experience, quests, or items.
All Mobs randomly drop:
Red Lions had high drop rates for Aquamarine at the time drops were recorded.
Community content is available under
CC-BY-SA
unless otherwise noted.