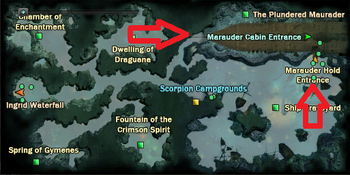 The Marauder is a shipwrecked ship located in the far eastern part of
Celestine Caverns
(which is located in the northern area of
Amarkand
).
This ship contains 2 dungeons, 1 is located in the bottom Hold portion and the other is located on the 2nd floor in the Cabin portion.
Entrance Key/Crystals Needed: None
Party Size limits: None
Player Level limits: None, Hell - 50
Daily limit: Hell mode once daily
Time limit: 30 minutes
To enter Marauder Hold, you will travel from the entrance of the caverns to the eastern most portion of the map practically in a straight line. If you click "M" and look at the map, the entrance is clearly marked with several NPCs standing in front of it.
The recommended level to begin Normal mode of this dungeon would be around 20. Depending on the player's class, Normal can probably be solo'ed around level 25. For each mode higher than Normal, add approximately 5 levels before it can be solo'ed so for Elite mode, level 35 would be around the minimum level for soloing depending on the class and equips.
There are 13 quests for Marauder Hold:
| Lvl | Quest Name | NPC | Task to Complete |
| --- | --- | --- | --- |
| 24 | [Normal] Shining Bone | Blacksmith Bill | Kill Ossein Foe, Soldiers, and Archers |
| 25 | [Normal] Lake Purification | Theletar Tritus | Kill Deathknights |
| 25 | Proof of slaying Marquis (Daily) | Theletar Achaen | Kill Marquis |
| 25 | [Normal] Death Claw's Breast | Captain Dante | Kill Death Claws |
| 26 | [Normal] The Vicious Marquis | Theletar Achaen | Kill Marquis |
| 26 | [Normal] Legendary Armor | Alchemist Lancaster | Retrieve Pieces of Ekdahl |
| 26 | [Normal] Legendary Weapon | Alchemist Lancaster | Retrieve Pieces of Stumpel |
| 26 | [Normal] Energy Drink Vessel | Captain Dante | Find Ancient Vessel by killing mobs |
| 26 | [Hard] Immortal Weapon | Alchemist Lancaster | Kill Ossein Foe, Soldiers, and Archers |
| 26 | [Hard] Collecting Mana Dews | Scorpion Lure | Kill Ghastly Barons |
| 28 | [Hard] Marauder's Deathknights | Scorpion Beckon | Kill Deathknight Fighters and Soldiers |
| 30 | [Hard] Marquis is Still Alive! | Theletar Hephon | Kill Marquis |
| 40 | [Elite] The Skull of Devil | Sir Ruffington | Kill Gressil and Marquis |
| 53 | [Hell] Artifical Intelligence | Amelia Valente | Kill N-000 Nemesis |
| 54 | [Hell] Blood of Marquis | Yilmaz Karsh | Kill Marquis |
Inside the Hold
Edit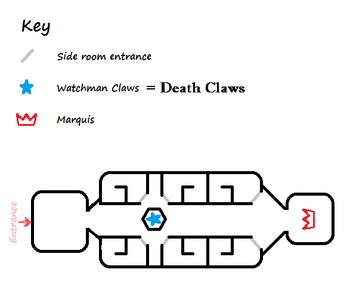 The first mobs you encounter are Dreadful Slashers and Ossein. The Ossein are sensitive to Holy magic, therefore clerics would benefit from attacking these mobs.
Next type of mob you encounter is Deathknights. These slightly more difficult to kill than the Osseins, but if you kill the Osseins around them 1st they are not difficult to kill.
You will come to the point where the blue star is marked on the map to the right. This is Death Claws he is a boss and has the difficulty of a boss, therefore its important to kill mobs around him first.
There are 4 room entrances around Death Claws. These rooms contain more osseins and 1 Ghastly Baron in each. When you kill the Baron, a box will appear. These boxes contain quest items.
After clearing those four rooms, kill mobs moving toward the eastern end of the map. You will encounter more of the same mobs and at the end in front of Marquis' room, there are 2 more rooms. Same as with the previous rooms, kill the Ghastly Baron to reveal the box with quest items.
Now you are ready to kill Marquis! If you are soloing this boss, he can be challenging for players under level 30. A few people should target Marquis while someone kills the two mobs standing next to him. If you are a ranged attacker, you can stand in the doorway to avoid some attacks.
When Marquis is defeated, a teleport will emerge. This warps you to the entrace of Celestine Caverns.
Materials (all modes): Aquamarine, Heavy Tough Skin, Steel, Wool Cloth 
Normal Mobs: Materials, Level 24 Regular Equips, Pellurite E, Rubicine E
Marquis: Same as normal, Level 24 Superior Equips
Normal Mobs: Materials, Level 24 Regular Equips, Pellurite E, Rubicine E
Marquis: Same as normal, Level 24 Superior Equips
Normal Mobs: Materials, Level 32 Regular Equips, Pellurite E, Rubicine E
Marquis: Same as normal, Level 32 Superior Equips, Level 26 Unique DIYs