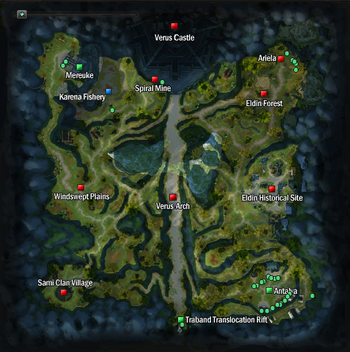 Karena is a PvE map that may be accessed from a teleport located in the southeast corner of Argent Forest in Traband. The teleport to get back to Traband the southern edge of the map. This map contains mobs and quests for levels 70-80.
There are 2 dungeons, Spiral Road and Ariela, both of which are located in the northern part of the area and marked on the map. These two maps are prized for their rare and expensive drops.
An international event takes place in this map known as Verus Castle Siege that takes place in 2 main parts, Part 1: Cannon Defense and Part 2: Verus Castle Assault. All nations are involved in this, helping to open the Verus Castle again.
Giant Gara and Vadcaw GoldWing the field bosses randomly spawn throughout this beautiful land! Make sure to bring a party with you if you encounter one of them.
Karena also has a Fishery located in the northwestern area of the map. This area has a NPC that gives fishing related quests and sells fishing related items. This is the most profitable area to fish in with no dangers of being killed.
NPCs are "Non-Playing Characters" that give you quests , complete quests, sell items , or otherwise interact with you.
As with items, you can search these people in the "Search" bar located on the map in-game.
Quest Objects
Edit
These are items that you must interact with to complete certain quests. Quest objects are typically only used for one quest, rarely more than one.
You can easily find these objects by typing the name into the "Search" bar located on the map.
Mobs are "Mobiles" which basically translates into mobile hostile creatures. These mobs may be aggressive and attack you without provocation or may not.
They drop items for crafting, quest items, and equipment. Equipment dropped is typically based on the level of the mobs.
SOME OF THESE MAY BE INCORRECT, WILL CONFIRM DROPS LATER OR EDIT IF YOU CAN!
All Mobs Drop:
Piece of Caelium
Battle Mana Potion & Battle Health Potion
Pellurite [B] & Rubicine [B]
Community content is available under
CC-BY-SA
unless otherwise noted.