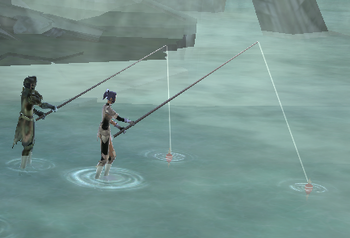 Fishing is a side hobby you can have in Aika! There are various fishing locations all over Lakia, Traband, and Karena.
In order to begin fishing, you must first talk to an NPC located in Regenshein Commercial District, Ribojai. You can also purchase unique fishing rods and soups from him with Fishing Certificates.
There are 800 levels you can get for the Fishing Skill. When you reach 1000 perfect casts, you will be awarded the "Fishing Expert" title!
How to Fish
Edit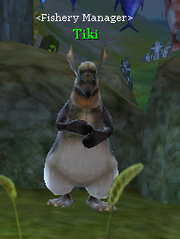 First, you will need to talk to one of the Fishery Mangers that are located at each of the fishing sites.
These NPCs sell basic fishing rods and bait that is needed to fish. They also give 2 quests. One is exchange fish for location specific soups. The other quest is to exchange a location specific rare fish for a Fishing Certificate.
After obtaining your fishing equipment, you will need to equip them the same as you would weapons and ammo.
Next, you will need to open your skills and equip the Fishing Skill as you would other skills to a hotkey.
Now you are ready to fish! To begin, click the hotkey you placed the Fishing Skill on. You will notice that the arrow is now a fish. Click on an area inside the fishing zone and a bar with a moving line will appear.
After a few seconds, a second stationary area will appear inside the fishing bar. The goal is to have the moving line land inside the blue stationary area. This is the "Perfect Zone" and has better chances of getting large fish and premium items. To stop the moving line, click the spacebar.
Benefits to Fishing
Edit
There are a few benefits to fishing, main one being GOLD! The only real place to make gold from fishing is Karena. But you must be level 51 to go there, so lower levels can fish for the rare fish at Lakia fisheries (1 Fishing Certificate per fish) and boxes to make money also. Starting out in other areas will also help you when you are level 51 because your Fishing Skill level will improve the quality of items you catch later when you can go to Karena.
The most profitable items come from Karena. You can catch a variety of trash things such as stones, tree branches, and rope. But you can also catch useful items such as essence,cores and enriched caelium which are used for crafting. The most valuable items are Rainbow Fish, Gem Boxes, Letter Bottles, and the Soups produced from completing the quests from the Fishery Manager.
The major con to fishing is that it is time consuming. So unless you just like the gold or challenge of getting 800 levels (which are easier to get than experience levels) you may not find this too appealing. But you are generating income from doing nothing but clicking, without using pots or repairing gear.
It is a nice time killer though if you are waiting for Cannon Defense or Verus Castle Assault to begin or just bored around Lakia.
Different Fishing Rods
Edit
There are 7 types of fishing rods that can be purchased or acquired through drops from the boxes caught in the fishing areas. Each of these rods gives a higher chance for better catches while fishing.
Bamboo Fishing Rod - +2

Purchased from any Fishery Manager at any Fishery

Steel Fishing Rod - +6

Purchased from Ribojai or dropped from the Old, Frozen, and Gem boxes

Mithril Fishing Rod - +8

Purchased from Ribojai or dropped from the Old, Frozen, and Gem boxes

Old Man's Fishing Rod - +10
Legendary Lakia Fishing Rod - +12

Dropped from the Old boxes

Legendary Traband Fishing Rod - +14

Dropped from the Frozen boxes

Legendary Karena Fishing Rod - +16
Different Bait Types
Edit
At each of the Fisheries, there is a different type of bait that the merchant offers. Each one advancing through Lakia, Traband, and then Karena gives a higher fishing "value" for catching better things.
From my experience, this is true, but the drop rate for the best items is low so you are mainly decreasing the amount of trash you catch. Therefore, unless you are extremely rich or just like to spend money, I suggest purchasing Wellspring or Darkrane Forest bait. Verband gives +1 to fishing value and is the cheapest, but Wellspring gives the best value for the cost and gives +6 to fishing value. If you do have a little extra gold to invest, Darkrane Forest bait is only around 350 each and gives +8 to fishing value.
To test this, I purchased 100 Karena baits, 100 Darkrane Forest baits, and 100 Verband baits and the results are shown in the following picture.

As you can see, in each instance, the number of trash items is decreased and the number of fish is increased. If more tests are done, the material items may also increase (not just fish), but this is a small comparison.
Karena - 66/100 Fish, 19/100 Materials, 15/100 Trash
Darkrane Forest - 58/100 Fish, 24/100 Materials, 18/100 Trash
Verband - 47/100 Fish, 18/100 Materials, 35/100 Trash
This was done with level 800 fishing title and Old Man's Fishing Rod. With a better rod you should get better results. None of these dropped a rare item.
Each location has specific fish you may catch. You may also acquire 3 types of trash and 2 types of materials from each location, except for Karena, which has 3 types of materials. When opening boxes, it is common to receive trash or materials instead of the items listed below.
Using the best fishing pole and the best bait available, your max fish value can be +31
Bolded fish are the quest fish that award a fishing certificate.
Verband FisheryEdit
Fish:

Mud Goby, Young Minnow, Marsh Catfish
Albino Nerine

Other:

Piece of Caelium, Water Essences

Trash:

Dirty Water Bottle, Decaying Branches, Seaweed

Old Box

Crit +4 (Accessory)
Pellurite [C] & [B], Rubicine [C] & [B]
Steel Rod
Mithril Rod
Legendary Lakia Rod
Trash, Materials

Green Message in a Bottle (3% Experience, Rubicine & Pellurite Ore)
Amarkand FisheryEdit
Fish:

Small Carp, Horned Flounder, Thorned Blowfish
Bone Eel

Other:

Piece of Caelium, Fire Essence

Trash:

Dirty Water Bottle, Decaying Branches, Seaweed

Old Box

Crit +4 (Accessory)
Pellurite [C] & [B], Rubicine [C] & [B]
Steel Rod
Mithril Rod
Legendary Lakia Rod
Trash, Materials

Green Message in a Bottle (3% Experience, Rubicine & Pellurite Ore)
Tabazra FisheryEdit
Fish:

Mini Croaker, Tasty Stingray, Desert Halibut
Light of the Oasis

Other:

Piece of Caelium, Air Essence

Trash:

Dirty Water Bottle, Decaying Branches, Seaweed

Old Box

Crit +4 (Accessory)
Pellurite [C] & [B], Rubicine [C] & [B]
Steel Rod
Mithril Rod
Legendary Lakia Rod
Trash, Materials

Green Message in a Bottle (3% Experience, Rubicine & Pellurite Ore)
Wellspring Fishery (Algon)Edit
Fish:

Stone Flatfish, Young Seabass, Plateau Smelt
Fish of Life

Other:
Trash:

Dirty Water Bottle, Decaying Branches, Seaweed

Old Box

Crit +4 (Accessory)
Pellurite [C] & [B], Rubicine [C] & [B]
Steel Rod
Mithril Rod
Legendary Lakia Rod
Trash, Materials

Green Message in a Bottle (3% Experience, Rubicine & Pellurite Ore)
Darkrane Forest FisheryEdit
Fish:

Trout, Shining Porgy, Silver Salmon
Chubby Forest Salmon

Other:
Trash:

Dirty Water Bottle, Decaying Branches, Seaweed

Old Box

Crit +4 (Accessory)
Pellurite [C] & [B], Rubicine [C] & [B]
Steel Rod
Mithril Rod
Legendary Lakia Rod
Trash, Materials

Green Message in a Bottle (3% Experience, Rubicine & Pellurite Ore)
Termiz FisheryEdit
Fish:

Flaming Crawfish, Red Porgy, Lava Eel
Lava Turtle

Other:
Trash:

Dirty Water Bottle, Decaying Branches, Seaweed

Old Box

Crit +4 (Accessory)
Pellurite [C] & [B], Rubicine [C] & [B]
Steel Rod
Mithril Rod
Legendary Lakia Rod
Trash, Materials

Green Message in a Bottle (3% Experience, Rubicine & Pellurite Ore)
Traband FisheryEdit
Fish:

Blue Pufferfish, Blue Squid, Ice Flower Carp
Ice Awl

Other:

Enriched Caelium, Blizzard Core

Trash:

Frozen Seaweed, Debris of a Spaceship, Broken Rod

Frozen Box

Dodge +4 (Armor)
Jerennis Fragments
Pellurite [B], Rubicine [B]
Legendary Traband Rod
Trash, Materials

Blue Message in a Bottle (X% Experience, Rubicine & Pellurite Ore)
Karena FisheryEdit
Fish:

Karena Porgy, Green Hogfish, Spike Fish
Rainbow Fish

Other:

Enriched Caelium, Typhoon Core, Pyre Core

Trash:

Unusual Stone, Unusual Rope, Bones of Terror

Gem Box

Crit +13 (Weapon)
Pellurite [B] & [A], Rubicine [B] & [A]
Steel Rod
Mithril Rod
Legendary Lakia Rod
Trash, Materials

Red Message in a Bottle (5% Experience, Rubicine & Pellurite Ore AA)