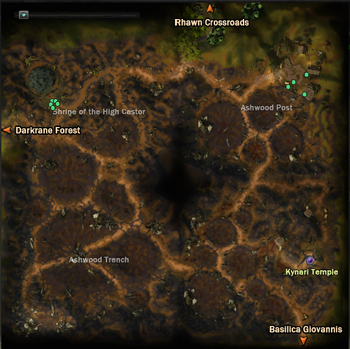 Ashwood was once part of the beautiful forest now called
Darkrane Forest
. It is now a burnt, charred remnance of a forest that was destroyed by Lakian forces in an attempt to flush out the former High Castor of the Kynari.
Ashwood is home to several strong mobs, Mutated Anglers being the most significant because this is the 2nd mob that is commonly used to grind.
Ashwood possess a Temple that is located in the southeast region of the map.
To the north is Rhawn Crossroads, to the west is the Ruins of Algon, to the south is Basilica Giovannis.
Diodia and Fireheart the field bosses spawn in this barron wasteland. Be sure to check both channels to find them!
These "Non-Playing Characters" give quests, are merchants, or otherwise interact with players.
Quest Objects
Edit
These are objects used during quests. Objects are typically only used once for one quest.
These are creatures killed for experience, quests, or items.
Mobs randomly drop:
Community content is available under
CC-BY-SA
unless otherwise noted.