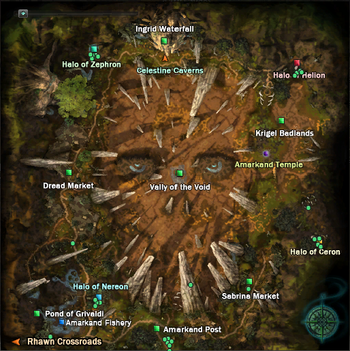 Amarkand is the 2nd map you will enter after leaving
Regenshein
. It is a barron wasteland that is inhabited by thieves.
Amarkand has a Temple, which is where Relics are housed, so it is a common site for pkers. The Temple is located on the eastern side of the map on top of a hill.
Celestine Caverns is generally a safe area (from pkers) to complete quests that is located in Amarkand. It is located under a waterfall in the northern area of the map. There are 2 dungeons in the caverns: the Marauder Hold and Marauder Cabin. To the South is Verband, to the southwest is Rhawn Crossroads, home of the Rift.
Lake Guardian and Kaydj the field bosses spawn randomly in the around Amarkand! Be sure to check both channels to find them!
The southwestern area of the map contains the Amarkand Fishery. If you are looking for a Aika hobby that may pay some big rewards, check out Fishing!
This area is used for level 20-30 players.
These "Non-Playing Characters" give quests, are merchants, or otherwise interact with players.
Quest Objects
Edit
These are objects used during quests. Objects are typically only used once for one quest.
These are creatures killed for experience, quests, or items.
All Mobs randomly drop:
Golums around Halo of Helion dropped increased amounts of Aquamarine at the time drops were recorded.
Community content is available under
CC-BY-SA
unless otherwise noted.